I will be offering a 1 day Body, Mind, Equine Workshop in Bryson City, NC, Sat. Sept. 12,  9 am – 4:30, at The Settlement at Thomas Divide.  Horses provided.
All levels of riders & yogi's welcome, including beginners.  We work with you where you are & have horses suitable for all levels.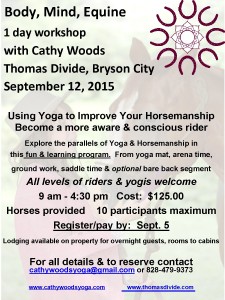 This is a fun, learning, relaxing & unique way to spend a day and "try something different". This is not a program about doing yoga on horseback (though we do a few stretches in the saddle), this is about becoming a more aware & conscious rider/handler and how to use yoga & yogic principles to improve your horsemanship & your life…on and off the mat.
We spend time on the mat, doing good stretches for riders, body scans, relaxation techniques & the like; We then bring our centered energy into the arena with the horses for basic ground work exercises; We move into the saddle to apply what we've learned;  Then there is an optional bare back segment for those interested.
Due to the nature of this program I can only take a maximum of 10 participants.
Cost is $125.00 
Payment in full is due no later than

Sept. 5

.
  Note:
A $50.00 non refundable deposit is kept should you cancellation.  If weather is inclement, a rain date will be offered.
Lodging is available at the Thomas Divide for out of town guests, rooms to cabins, should you like to make a "Smoky Mountain Weekend" out of the event.
Feel free to contact me with all questions and/or to reserve
. Once reserved , you will receive an e mail with details, directions, what to bring.